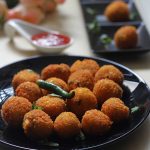 Veg cheese balls or vegetable cheese balls or veggi cheese balls is such a tempting snack that kids would love to have it.
Keyword:
corn cheese balls, potato cheese balls, veg cheese balls, vegetable cheese balls, veggie cheese balls
Mixed vegetables - 1.5 cups

Potato - 3 small

around 75 to100 gms

Paneer - 1/2 cup or 100gms

Cheese - 6 tbsp

increase or decrease as your wish (you can use mozerella or cheddar cheese)

Corn flour - 2.5 tbsp

All purpose flour - 1/4 cup

+ or -

Green chillies - 2

Coriander leaves - 4 tbsp

chopped

Milk - 1/4 cup

Baking soda - 1/4 tsp

Breadcrumbs - as required

Salt - as per taste

Oil for frying
Cook the mixed veggies with little salt until soft. Boil the potatoes and peel off its skin.

If you are adding frozen paneer, Soak it in hot water for 3 min, squeeze slightly and then add it. If you are using fresh paneer just add as it is. Add the cheese. Mozzarella cheese does good work.

Chop the green chillies and coriander leaves finely and add it.

Add the required salt, all purpose flour, baking soda and mix well by crushing the vegetables and other ingredients as far as you can. Make a dough has shown below.

Make small equal balls and dip the balls in the milk. Immediately roll the balls in the breadcrumbs.

Again slightly dip the balls in the milk and roll the balls in the bread crumps mixture again until the bread crumps are coated well. Do the same for all the balls. Let it rest for 10 to 15 min in fridge. Now Heat the oil in medium and drop the balls slowly.

When the balls turns golden colour or light brown colour, remove it and filter the oil. Do this process in small batches.

Yummy and addictive veg cheese balls are ready. Serve with tomato sauce or chilli sauce.