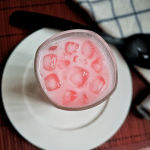 Rose milk using homemade rose syrup recipe is most famous drink in India. In many functions like marriage, childbirth, child naming Etc people used to offer this Rose milk as a welcome drink next to the lemon juice.
In the heavy-bottomed vessel add 1 cup of sugar and 1/2 cup of water.

Let Sugar dissolve completly.

Now add Rose food colors and mix thoroughly. No need to wait for the sugar to attain single thread consistency. Just before that itself is enough for this recipe.

Add the rose essence and switch off the stove with 1 boil. Do not keep boiling the rose syrup after adding essence.

Allow the rose syrup to cool down.

Now in a tall glass and few ice cubes and the rose syrup I added 5 tbsp of Rose syrup has my glass tumbler is tall. You can add as per your wish.

Now add one cup of milk to the glass and mix nicely.

your Rose milk using homemade rose syrup is ready to be served.
If you want you can store the rose syrup in a glass jar and keep it refrigerated for nearly 3 weeks to one month.
For me 5 tbsp of Rose syrup is enough for one cup of milk. It tasted good for us. If you want you can adjust the consistency accordingly.
Try to use good variety of roses Essence so that the smell will not go away if you're going to store the rose syrup for a month.
Try to use chilled milk or boiled milk which is completely cooled down before adding to the rose syrup.
No need to wait for the sugar to attend the single thread consistency. It is enough if the sugar syrup is just sticky if you touch them.