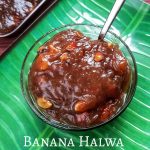 Banana Halwa is a tasty dessert which can be easily prepared with just three main ingredients - Banana, sugar and ghee. In this Banana halwa i have added corn flour also to give the halwa a very glossy texture. But adding corn flour is purely optional and is not added in the tradiona recipe of preparing the banana halwa.
Take banana and slice them

Make them to a paste in a food processor or mixie jar.

In a heavy bottomed pan, add 1 tsp ghee and fry the nuts.

Keep them aside.

In the same pan, add the banana paste and keep stirring.

After about 12 min, it starts to thicken.

Now add the sugar, 1/2 cup first. Check for the sweetness first and then add the remaining sugar.

Let all the dissolve nicely.

Now add little water to cornflour and make it a paste. Add this paste to the halwa.

Once you have added the corn flour mixture, do not stop stirring the halwa.

The halwa loosens first and then starts to thicken.

Now add ghee 1 tbsp at time. Add 4 to 5 tbsp of fhee at equal intervals of 3 to 5 min.

At one stage, the ghee starts to ooze out from the halwa.

Turn off the stove and serve the tasty banana hakwa hot. Or transfer to a plate greased with ghee, allow to cool down and cut into squares and then serve.