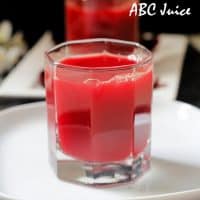 Apple Beetroot Carrot Juice | ABC Juice is such a healthy and tasty juice which helps in purifying the blood and is good source of dietary fiber and vitamin c.
Keyword:
ABC Juice, Apple Beetroot carrot Juice
Wash the apple, beetroot and carrot nicely.

Peel off the beetroot and carrot skin.

If you have juice extractor, add the beetroot, carrot and apple and extract the juice. Thats it. (tastes superb)

If you do not have juice extractor, grate them using the grater. Add to the mixer by adding water.

Extract the juice by using a juice filter. (tastes good).

Serve it.Notes:If you like your juice to be sweet, just add 1 tsp sugar. ( But I do not recommend, as it spoils the taste)If you are grinding using mixer, do not add more water, as it becomes more watery.