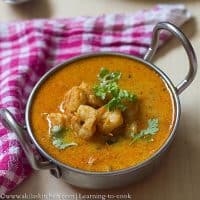 Malabar Prawn Curry is my kids favorite curry. It tastes great with steamed rice or with idlis or Aappam or even with chappathi or roti. It can be made as a spicy one or with mild spiciness. I made with less spicy as I need to feed my daughter. I took the recipe from here. If you want to look for some tangy and spicy prawn dish you can have a look on prawn thokku or prawn gravy.
Cuisine:
Indian, Kerala cuisine
Keyword:
malabar chemmeen curry, malabar prawn curry, malabar shrimp curry
Prawns – 250 gms

cleaned and deveined

Mustard – a pinch

Fennel seeds – 1/4 tsp

Onion – 2 chopped finely

Tomato – 2 chopped finely

Curry leaves – 12 to 15

Green chilli – 1 chopped finely

Chilli powder – 1 tsp

Coriander powder – 1.5 tsp

Turmeric – 1/5 tsp

Cumin powder – 1/2 tsp

Thick coconut milk – 1/2 cup

Thin coconut milk – 2 cups

Coconut oil – 1.5 tbsp

Salt – as per taste
Clean the prawns and wash with salt. In a pan add coconut oil. Keep the flame in medium. When it is hot add the mustard. When it splutters add the Urud dal.

Add the curry leaves now. Fry for 30 sec. Add the chopped onion.

When the onion is translucent, Add the ginger garlic paste and green chilli and fry till the raw smell of ginger garlic goes off. Add the tomatoes and sauté them well till it becomes mushy.

Add the chilli powder, coriander powder, cumin powder, turmeric and salt. Allow to cook for 1 min. Now add the prawns and mix it well with the masalas.

Do not add any water as the Prawns leave out water. When they leave out water add the thin coconut milk and cook for 5 min.

Prawns would be half cooked by this time. Allow the prawns to cook for another 5 min and add the thick coconut milk.

After adding thick coconut milk, do not cook more. When it just starts boiling switch off the stove.

Garnish with coriander leaves and serve hot with rice.