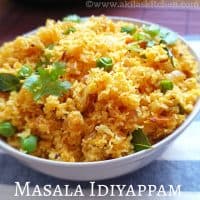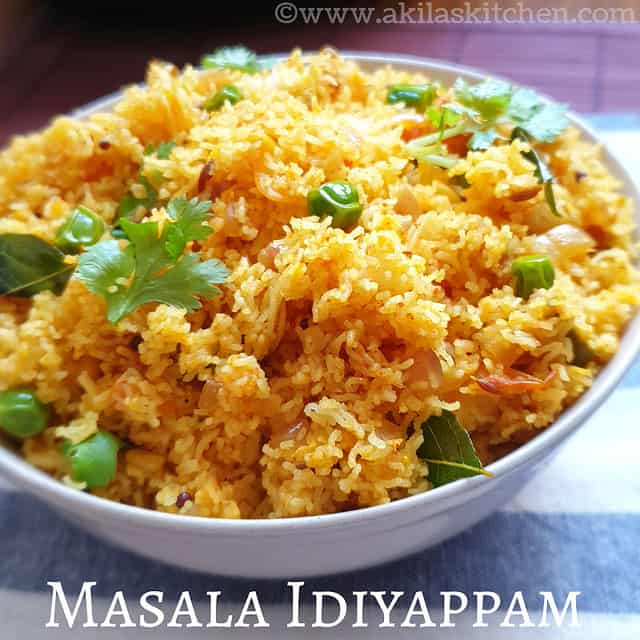 Masala Idiyappam recipe is made from the left over idiyappam and it tastes great and bit spicy with all the spices we add. We can also add our favourite veggies to it. A simple raita can go well with this masala idiyappam.
Cuisine:
South Indian, tamil nadu
Keyword:
kothu idiyappam, masala idiyappam
left over idiyappam/ – 8 to 10

(when crumbled came around 2 cups)

ready made sevai

oil – 2 tbsp

mustard seeds – 1/4 tsp

urud dal – 3/4 tsp

cumin seeds – 1/2 tsp

green chilli – 1 chopped finely

green peas – 2 tbsp

you can also add veggies like carrot, bean

salt – as per taste

onion – 1 medium size

tomato – 1 big size

chilli powder – 1/2 tsp

turmeric powder – 1/4 tsp

biryani masala – 3/4 tsp

garam masala – 1/4 tsp

optional

coriander leaves – for garnishing

lemon juice – 1/2 tsp

optional
Take some 8 to 10 leftover idiyappam or 2 cups or cooked sevai.

Add oil and when it is hot add the mustard, cumin and urud dal. Fry them for a minute or two.

Again add a spring of curry leaves and fry for a minute.

Now chop the onions and add them too.

Add some required salt to the onions so that they are cooked fast. Sauté the onions well or until they becomes translucent.

Tomatoes are added now. Cook them untill soft.

Once the tomatoes becomes soft, add the required veggies like green peas, carrot, cabbage, beans, sprouts etc. Here i have added only green peas.

Add the chilli powder, turmeric powder and biryani masala. If you want you can add the garam masala and reduce the quantity of biryani masala.
Cook the veggies
Now the veggies need to be cooked. So add required amount of water and cook them. Here we cook only green peas.

Green peas is cooked nicely and the masala also becomes thick.

Now add the left over idiyappam to the masala.

Mix them nicley with the masala, so that masala is well coated.

Masala is coated well.

Garnish with coriander leaves.

Serve them in a plate or bowl.