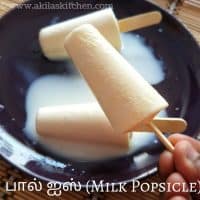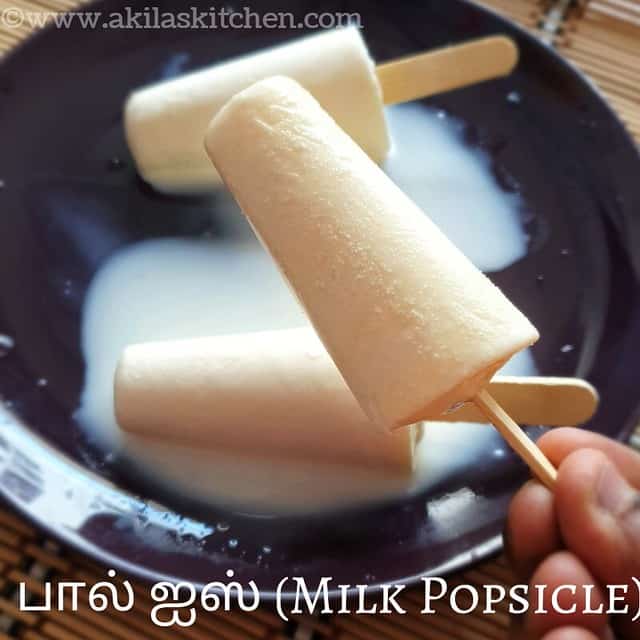 Paal ice | Milk Popsicle is a very easy and tasty popsicle recipe which is made using only milk and cream is added to give some extra richness to the recipe. This milk popsicle can be made in different ways like using corn flour, milk powder etc. But here I have used the milk and the cream to give extra richness to the milk popsicle
Keyword:
milk popsicle, paal ice
Full cream milk – 3/4 cup

Cooking cream – 1/4 cup

Sugar – 2 tsp

or as per your taste

Vanilla essence – 4 to 5 drops
Take 3/4 full cream milk. Full cream gives nice thickness.

To this add 1/4 cup of cooking cream or fresh cream.

Add required sugar. I have used 2 tsp of sugar. You can also use brown sugar or palm sugar.

To this add few drops of vanilla essence. This is optional but it gives nice smell. You can also add a pinch of cardamom powder.

Allow milk to boil. Let it rise up and down for about 6 to 8 times.

Keep stirring now and then to remove the formation of milk layer. (Malai)

Switch off the flame and cool down completely.

Pour the milk to the popsicle moulds or kulfi moulds.

Close the lid and freeze for 8 hours or overnight. You can insert the sticks after freezing for 2 hours, so that sticks can stand firmly in middle.

After 8 hours, remove from freezer.

Show the moulds outer sides under the running tap water or take lukewarm water in a tumbler and dip these moulds in to them for about 2 to 3 seconds. The water should be warm and should never be hot.

Slightly rotate them and take out the paal ice | milk popsicle outside.

Serve them immediately.