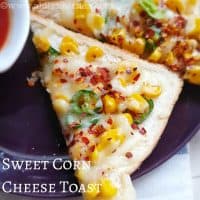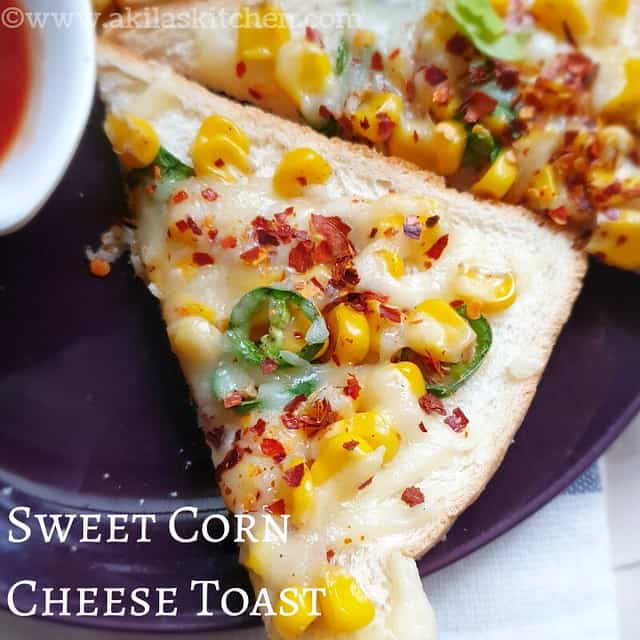 Sweet corn cheese toast is so simple yet tasty bread toast recipe which can be prepared easily within 5 minutes of time. Also it can be served as an evening tea time snack or as a morning breakfast. This toast is so simple yet tasty and needs not more than 5 minutes to prepare. Only toasting it takes some 8 to 10 minutes. The addition of cheese and the addition of chilli flakes makes it more cheesy yet spicy. This combo gives the unique taste to this toast.
Keyword:
corn cheese Toast, sweet corn cheese Toast
bread slices – 4

white or brown

fresh sweet corn – 1/2 cup

garlic clvoes – 1/2 tsp

green chilli – 1 finely chopped

coriander leaves – little

salt as per taste

pepper powder – less than 1/4 tsp

or as per taste

mozerella cheese – 1/4 cup

chilli flakes – little for sprinkling
In a bowl add the sweet corns. To this add chopped garlic,

green chilli, coriander leaves

Pepper powder and salt.

Mix them all nicely.

Take the bread slices and apply this mixture

add the cheese first, followed by chilli flakes. If you want you can add some italian herbs too like oregano, basil etc.

Toast the bread in convection oven for about 8 to 10 minutes at 150 deg or until the cheese melts completely.

Take out and cut them in to desired shape. I have cut them diagonally.

Serve the sweet corn cheese toast immediately with chilli sauce or tomato sauce.

Tasty sweet corn cheese toast is ready.