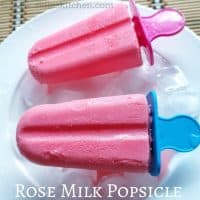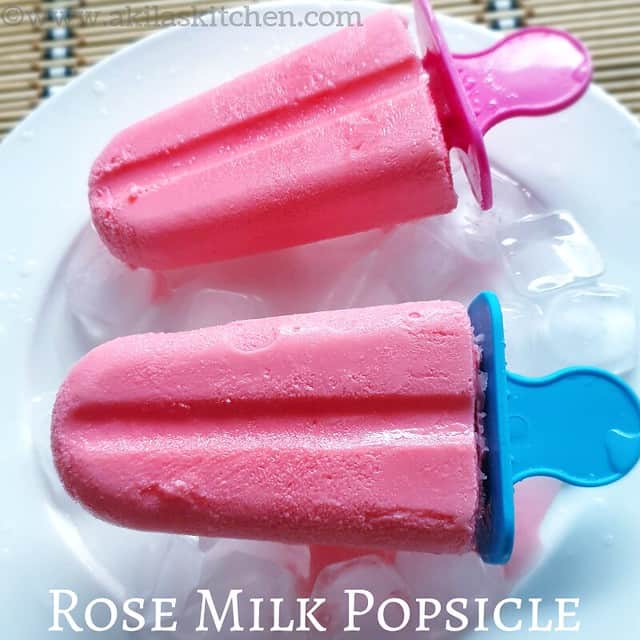 Rose milk popsicle is a very tasty and easy popsicle recipe, which requires only 2 ingredients to prepare. Yes, it needs only 2 ingredients – milk and the rose syrup and your rose milk popsicle would be ready.
Keyword:
rose milk ice popsicle, rose milk kuchi ice, rose milk popsicle
Milk – 2 cups

1 cup 250 ml

Milk powder – 2 tbsp

optional

Home made Rose syrup or store bought – 3 to 4 tbsp or as needed

Sugar – 4 tsp or as per taste
Boil 2 cups of milk in a pan.

To this add the milk powder.

Allow the milk to boil for about 7 to 8 times.

By this time, the milk would have reduced in quantity a bit.

Now allow it cool down completely.

To this add the rose syrup.

If you need add some sugar.

Mix well till sugar dissolves completely.

Fill in the rose milk into the moulds till 90%

Insert the sticks now.

Keep in freezer for about 8 hrs or overnight. After about 8 hrs/ overnight, take them out from the freezer and show in running water for about 5 to 6 sec.

Now slowly take out the stick.

Tasty Rose milk popsicle is ready to be served.