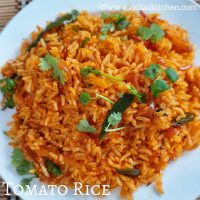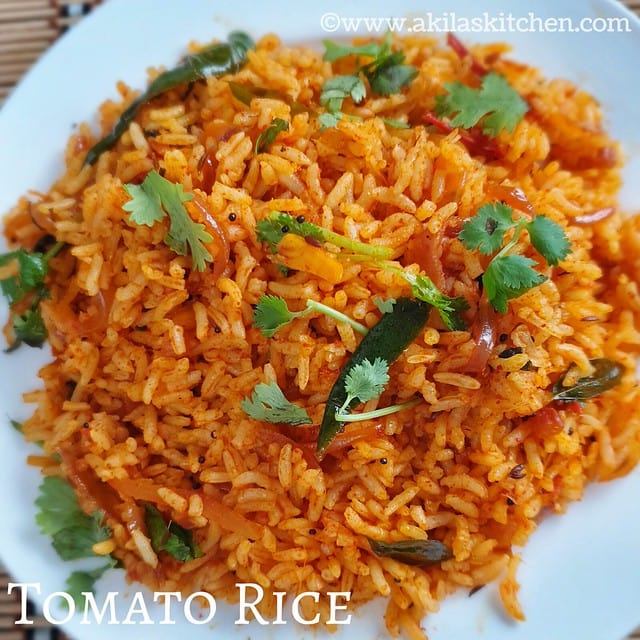 Tomato Rice | Thakkali Sadham is one of my favourite and easy recipe which can be prepared in your morning hurry burry and can be packed for your husband and kids lunch box. Some simple potato chips itself goes well with this tomato rice recipe.
Cuisine:
South Indian, tamil nadu
Keyword:
thakkali sadham, tomato rice
To Prepare rice
cooked and cooled rice – 3 cups

salt – 2 pinch

oil / ghee – 1/2 to 1 tsp
To prepare Masala
Oil – 2 tsp

ghee – 2 tsp

mustard seeds – 1/4 tsp

cumin seeds – 1/4 tsp

Black gram/urud dal – 1/2 tsp

Bengal gram/chana dal – 1/2 tsp

ginger – 1/4 inch

garlic – 6 cloves

chopped

green chilli – 2

mint levels – handful

optional

curry leaves – handful

onion – 1 big

tomato – 2 big

chilli powder – 1 tsp

turmeric – 1/4 tsp

garam masala – 1/4 tsp

salt as per taste

palm sugar/white sugar – 1/2 tsp

coriander leaves for garnishing
Prepare the rice
Add the cooked cooled rice in a plate. I have used normal plain rice only. If you want you can use, biryani rice for a more flavorful tomato rice. To this add little salt.

also add ghee or oil and mix thoroughly . This is done so as to prevent the rice sticking together while mixing.

Keep the rice aside.
Prepare the tempering
Now let us start preparing the tempering. For that, add oil or ghee in a pan or a mix of both. adding ghee gives a nice flavor to the rice.

when the oil or ghee is hot, add the mustard and cumin seeds.

urud dal and chana dal and fry them for a while or till the dal becomes light brown in colour.

once the lentils becomes light brown, include the chopped ginger and garlic cloves. You can also add ginger and garlic paste if you want.

throw in some curry leaves and fry them.

add in the mint leaves and green chilli now. Mint leaves also gives a nice flavor and is purely optional.
Make the tomato rice
Once we have prepared the tempering and initial process, let us now add in some onions and saute them nicely.

When the onions becomes translucent and soft, add the chopped tomatoes. saute them until soft.

When the tomatoes are soft, add the turmeric, salt

chilli powder, garam masala and mix them well..

add the palm sugar or the white sugar now. adding the sugar , gives a mild sweet taste to the rice. but this step is purely optional.

allow them to cook nicely and let the oil oozes out.

Add the rice now and mix it thoroughly in the masala without breaking the rice.

Garnish with some coriander leaves and your flavorful rice is ready.