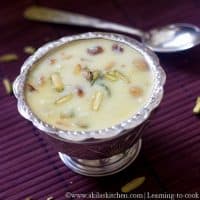 Paneer Payasam aka Paneer Kheer is a delicious kheer recipe which tastes similar to Basandhi. This is a quickest recipe which can be made within 10 min, if all the ingredients are in hand. Now let's see how to prepare this Paneer Kheer.
Keyword:
paneer kheer, paneer payasam, paneer payesh
Grate the Panner and keep it ready. Fry the nuts and raisins adding 1 tsp ghee in a small pan and keep it aside.

In a wide vessel, add the milk and start boiling it. Let it reduce to atleast 3/4 in quantity. You can add condensed milk at this stage. Add the saffron strands.

Crush some cardamom seeds and add to the milk. When the milk is boiling, add the panner and allow to boil for 5 min. Add a pinch of salt.

Add the fried nuts and raisins. Switch off the stove.

Garnish with remaining nuts and Serve it hot or cold.
Adding condensed milk is optional, but it makes the payasam richer in taste.
When adding sweetened condensed milk, reduce the sugar, accordingly. 
Adding pinch of salt to payasam always makes the kheer, more tastier.
Saffron strands can be soaked in separate milk and you can add that milk also.