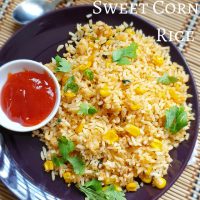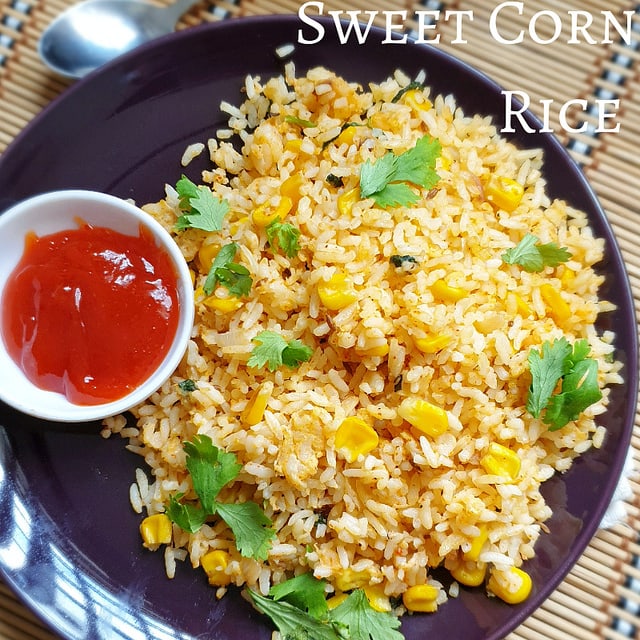 Sweet corn rice can be made in many ways and this is my way of cooking the sweet corn rice which can be finished in just 8 to 10 minutes. Also it wont be much spicy and so kids wont make any trouble eating this rice. Since we add the eggs to this sweet corn, it will be protein rich too.
IngredientsFor egg mixture
To make rice
Oil – 2 tbsp

Cumin seeds – 1/4 to 1/2 tsp

Green chilli – 1 chopped finely

Onion – 1 medium size

Sweet corn – 100gms

around 3/4 cup

Mint + coriander leaves – 1/2 cup

Salt – as per taste

Chilli sauce – 1tbsp

optional
Prepare Egg Mixture
Break 2 eggs in the bowl.

Add pepper, salt and chilli powder. Chilli powder can be adjusted as per your spice level.

Beat the eggs nicely so that everything gets mixed nicely.

Keep it aside.
Cook the sweet corn
In a kadai or pan, add oil.

Add cumin and finely chopped green chilli.

Fry for a minute. Add in the finely chopped onion and saute it.

Add sweet corn, and saute again for just 2 minutes.

Also add the mint and coriander leaves and saute them.

Now Add salt.

Cover and cook till the sweet corn are cooked nicely.

If you want you can sprinkle little water. As my sweet corns are fresh, it got cooked without adding any water.
Preparing Rice
Once the sweet corn is cooked, add the cooked rice and mix well.

Now add the beaten egg mixture and keep the flame to high.

Keep mixing the rice now so that eggs get cooked well and gets mixed with rice nicely. Actually rice looks soggy now. But need not worry.

Keep the flame to high and keep stirring. It might take 3 to 4 minutes for eggs to cook and blend with rice well.

Stir rice, until rice again become fluffy and no raw egg smell comes.

Now add the chilli sauce and mix lightly. This is purely optional.

Sweet corn rice is ready. You can Garnish with some coriander leaves.