Chilli Chicken Recipe is one of our family favorite recipe next to chicken manchurian. I often get confused with the chilli chicken and the chicken manchurian as both are prepared in the same way with very slight difference. One of my friend said in chilli chicken, boneless chicken breast is marinated and fried and while preparing chilli sauce is added along with tomato sauce but in chicken manchurian shredded chicken pieces are marinated with corn flour mixture and fried to a crispy balls and prepared with tomato sauce and bit sweeter in taste. If you know any other difference between the chilli chicken and the chicken manchurian just let me know.
In restaurants, you can notice that chicken pieces in chilli chicken would be tender and juicy. But when we do it in house, chicken may become dry and rubbery while we fry it. In order to get juicy and tender chicken, we need to do brining. Brining is a process similar to marination in which meat or poultry is soaked in brine before cooking.Salt is added to cold water in a container, where the meat is soaked anywhere from 30 minutes to a few days. The amount of time needed to brine depends on the size of the meat. Instead of salt water, you can do it with salted buttermilk also. After brining, drain the pieces and use it. Eggs can also be used to keep the chicken from drying. In this chilli chicken recipe, I used eggs in marination. So now lets go to chilli chicken recipe.
You can try other chicken recipesfrom my blog and some I have given below.Chicken 65 Restaurant Style
Crispy Chicken Fry
Ginger Chicken Fry
Butter Chicken Roast
Garlic Tomato Chicken Roast

Chilli Chicken Recipe
Preparation time: 50 min (+1 hr soaking time) | Cook Time: 30 min | Serves: 4
Recipe Category: Appetizer | Recipe Cuisine: Indian
Ingredients
For Marination
Boneless Chicken – 1/2 kg
Soya sauce – 1 tbsp
Chilli sauce – 1 tbsp
Pepper Powder – 1/4 tsp
Chilli powder – 1/2 tsp
Egg white – from 1 egg (or 2 tbsp all purpose flour + 2 tbsp corn flour)
Printable Recipe of Chilli Chicken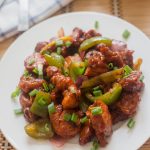 Chilli Chicken Recipe
Ingredients
For Marination
Boneless Chicken - 1/2 kg

Soya sauce - 1 tbsp

Chilli sauce - 1 tbsp

Pepper Powder - 1/4 tsp

Chilli powder - 1/2 tsp

Egg white - from 1 egg

or 2 tbsp all purpose flour + 2 tbsp corn flour
For Seasoning
Soya sauce - 2 tsp

Chilli sauce - 2 tsp

Chilli powder - 1 tsp

Vinegar - 1.5 tsp

Sugar - 1 tsp
Other Ingredients
Onion - 2 medium sized

Cubed

Capsicum / Bell peppers - 1 cup

cubed

Green chillies - 2 cut lengthwise

Spring onion - 1

chopped finely + little for garnishing
Instructions
Wash the chicken nicely with salt and turmeric powder. Add the tomato sauce, pepper powder, soya sauce, egg white.

Add the chilli powder and marinate for 1hr at least.

Now add the corn flour and all purpose flour and mix well.

In a vessel add oil and when hot add the marinated chicken pieces in little batches and fry them to crispy. When they turn golden colour, Filter the excess oil in kitchen towel and keep them aside.

Meanwhile prepare the sauces in the bowl. Add the tomato chilli sauce, soya sauce, vinegar, sugar, pepper and keep it ready. (Got this tip from here).

In the vessel, add the oil and add the garlic and green chilli. Fry them. Add the cubed onions.

Add the capsicum and let them cook till 70 percent as we want them to be crunchy and not mushy. Now add the prepared sauce and mix them.

Add the fried chicken pieces and mix them till they are well coated with the sauces. Check for the salt and adjust it.

Yummy chilli chicken is ready. Garnish with spring onions and serve it hot.
Recipe Notes
In seasoning, instead of chilli sauce, you can also add the tomato ketchup.
2. Try to do brining the chicken pieces the before night to make it tender and for best results of chilli chicken. If you are short of time, atleast do it for 1 hr and keep in fridge then prepare as ususal.
3. To get the bright red color to the chicken you can use the kashmiri chilli powder. If unavailable, you can use edible red colour.
4. Soya sauce already contains salt. So check before adding the salt.
5. You can avoid or reduce green chillies, when giving to children, as chilli sauce gives enough spiciness.