Baby Corn Recipes | Indian Baby Corn Recipes Collection – Baby Corn has become more and more popular now a days and it has been used in many Indian curries along with paneer and mushroom especially but also with other veggies.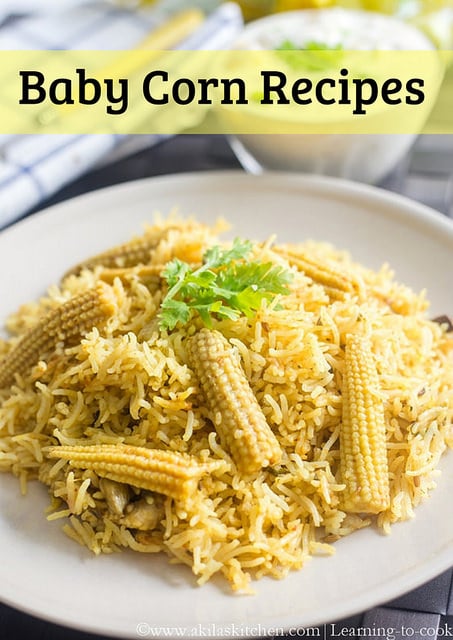 Baby corn (also known as young corn, cornlets or baby sweetcorn) is a cereal grain taken from corn (maize) harvested early while the stalks are still small and immature. It typically is eaten whole – cob included – in contrast to mature corn, whose cob is too tough for human consumption. It is eaten both raw and cooked. Baby corn is common in stir fry dishes. (Wiki)
Here I have collected all my baby corn recipes which I have posted in this blog for your easy search. It contains starters, side dish and even in mains. Do try out these baby corn recipes and let me know how it has turned out to you.
Baby Corn Recipes – With Rice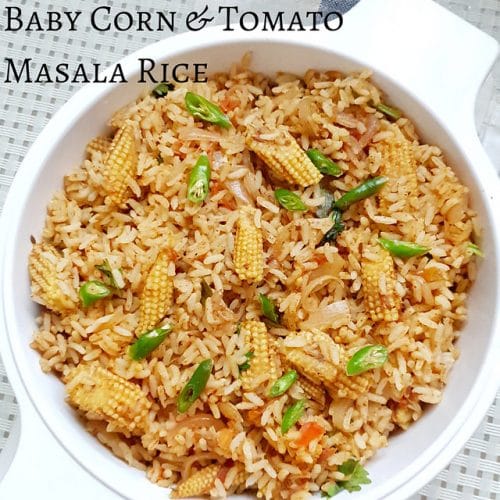 This Baby corn and tomato Masala rice is a spicy and tasty one pot rice recipe which you can prepare and give as a lunch box recipe for your kids and husband. In this baby corn and tomato Masala bath, the baby corn is cooked in the spice masala like pav bhaji Masala and garam Masala and the tanginess of the tomatoes gives a nice flavour to this rice.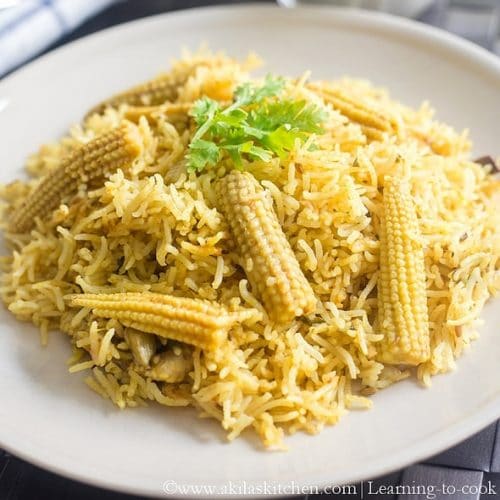 Baby Corn Biryani – Biryani is our family favourite recipe and this one doesn't escape from our fav list. The little crunchiness of the baby corn makes this recipe even more yummier. Try out this Vegetable Raita as the side dish for this pulao.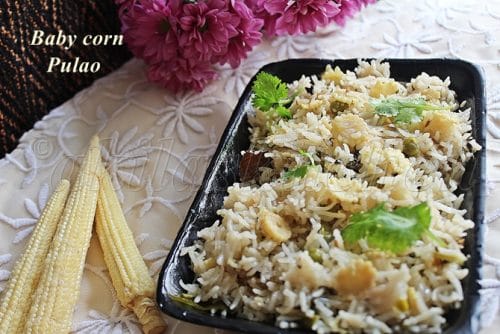 Baby Corn pulao – Baby corn puloa is another tasty and mild spicy recipe which is mostly loved by kids. It is a perfect recipe for any kind of party. Try out any spicy masala for this pulao.
Baby Corn Recipes – In curry and semi gravy dishes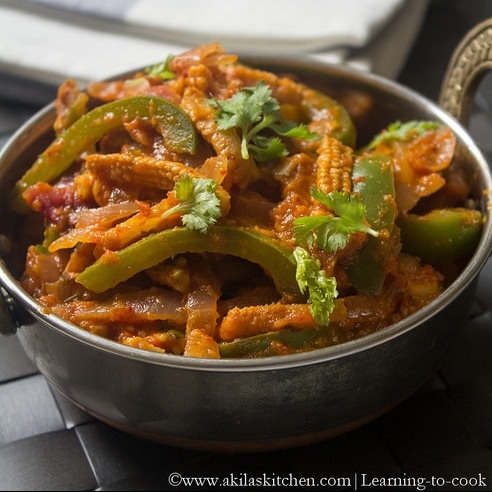 Baby Corn Jalfrezi – Baby corn Jalfrezi has become one of my favorite recipe. The crunchiness of the baby corn and the bell peppers and tanginess of the tomatoes makes it more flavorful. This goes well with any kind of fried rice or chappathi or roti etc.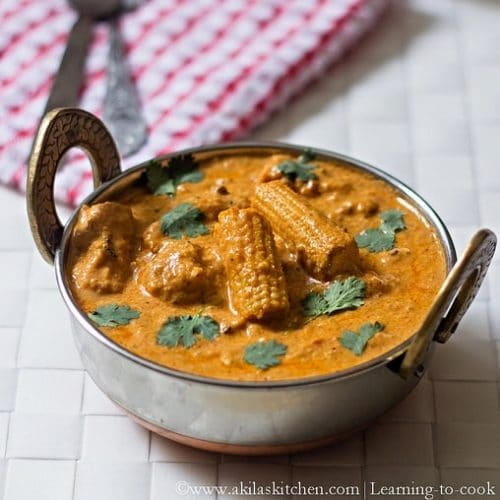 Baby Corn Masala – This is a creamy baby corn masala which is made in a traditional North Indian Style. It is a blend of sauted tomatoes and cashews soaked in milk. Together they give a rich creamy texture to the Masala.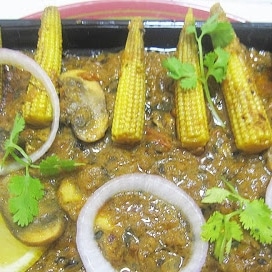 Baby Corn mushroom Masala – A must try recipe for both the baby corn and mushroom lovers. It is little spicier than other north indian Masala and tastes great with crunchy baby corns and yummy mushrooms. Goes very well with naan, roti etc.
Baby Corn Recipes – as side dish, appetizers, snacks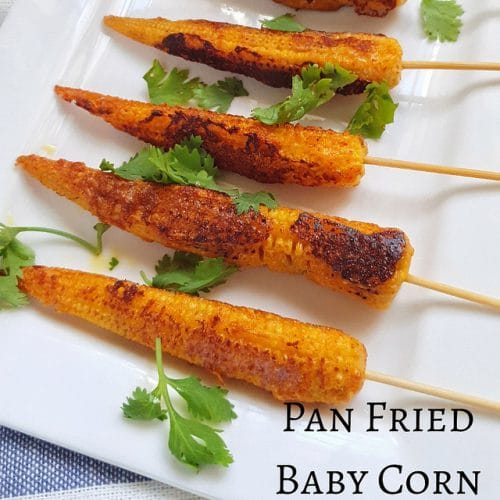 Pan fried baby corn – This pan fried baby corn recipe is a tasty, tangy, crunchy recipe. It is also a  healthy recipe as it is fried in a pan with very little oil. If you want to make it zero oil recipe, then you can grill them in a oven. Good go for any get together or birthday parties.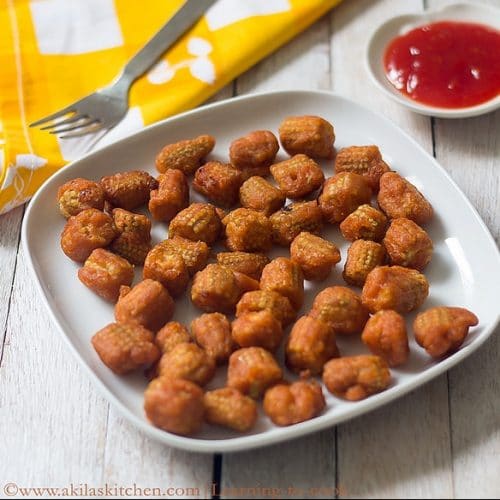 Baby Corn golden fries – This one is often mistaken to baby corn pakora, but the species used in this is completely different with that used for the pakoras or pakodas. Not only the pakoras, but also tastewise it is different from the pakodas.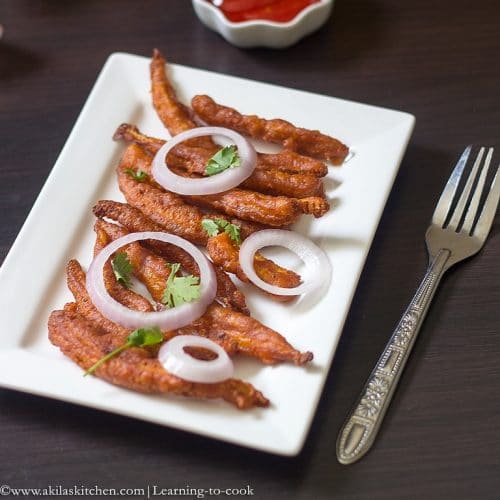 Baby Corn 65 – it is a similar recipe to Gobi 65 but is prepared with the tender baby corns. It is taken as a evening snack and is very kind friendly recipe and good for any kind of parties.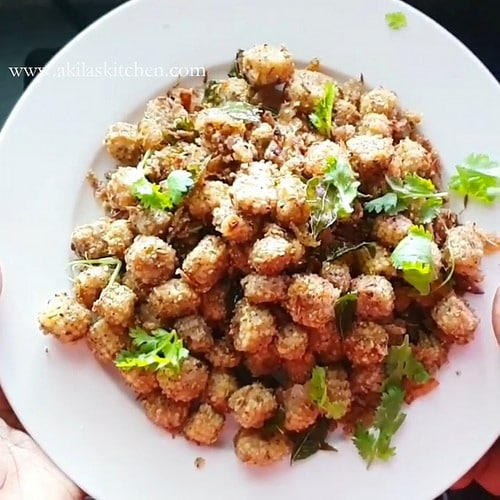 Baby Corn pepper fry – Spicy and peppery flavoured baby corn recipe is classic South Indian dish which goes well with sambar rice or rasam rice.